New line of straps: Stroppa Flat
Rope straps you`ve been waiting for
Stroppa Flat – New king of flexibility!
We are introducing a new type of camera strap: Stroppa Flat.
Previously, when choosing Stroppa camera straps, our customers could customise their straps with different ropes, length and color. To meet the expectations of our clients we wanted to create something unusual, which will make taking pictures in the urban jungle even easier.
We designed a new family of Stroppa straps. We  called it Stroppa Flat. Its new, lightweight construction is very durable and the strap is more flexible than any rope strap on the market. This allows you to carry your camera comfortably, no matter if you're carrying a pancake or a telephoto. The main focus of the Stroppa Flat is flexibility. It's aimed at the mirrorless cameras but can easily handle a medium format beast.
At the same time all of our regular straps are becoming bulky in comparison so now we call them Fat. The best part is that all the colors and rope types that we have, are available for both Fat and Flat strap families, giving you a choice of 5 colors and 3 different rope types. Each one available in 9 lengths!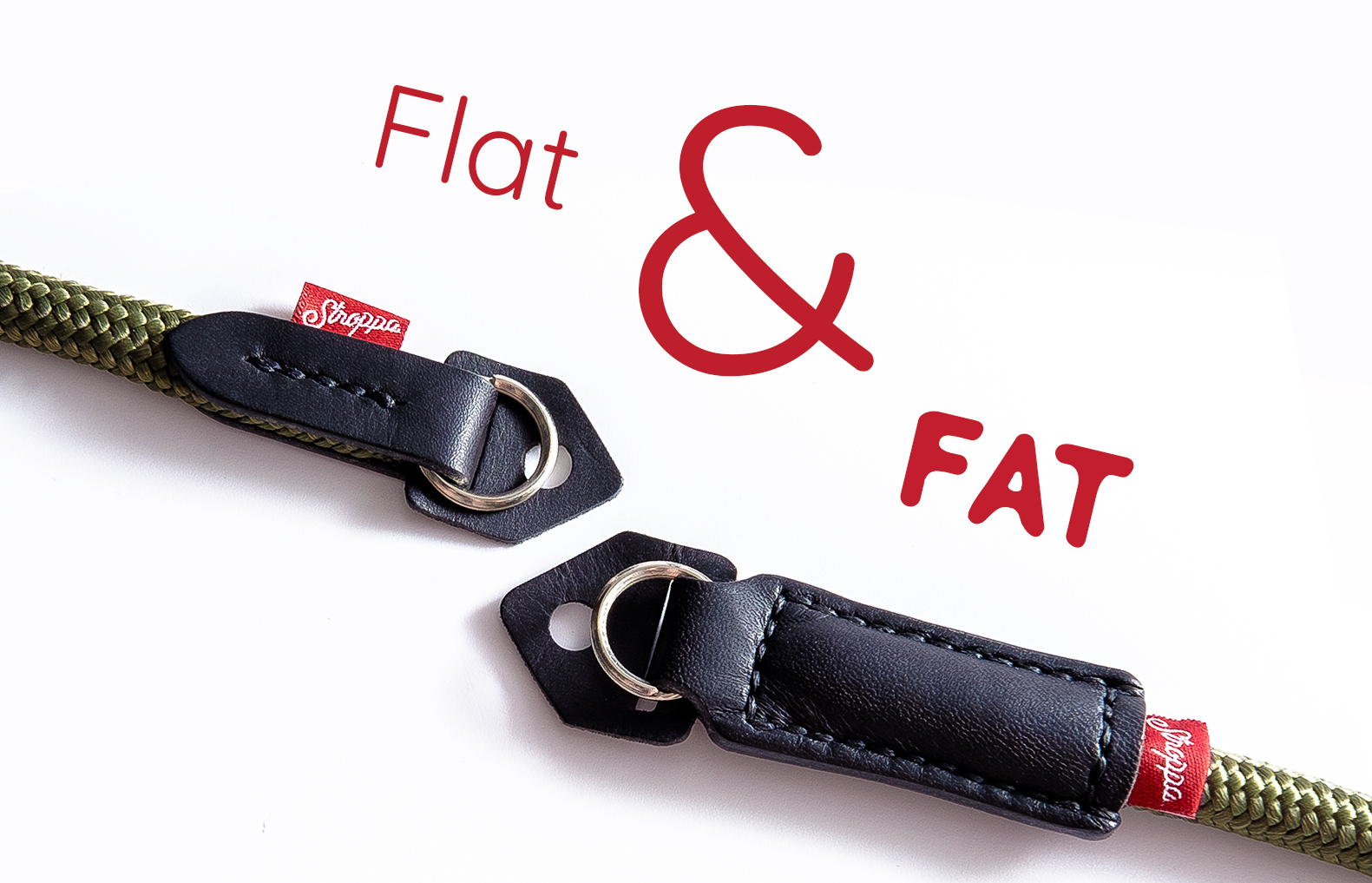 But wait… There's more :)
Our customers are dynamic people, which is why we have enriched the Stroppa Flat range with a new length. In addition to the neck version, where customers will be able to customize the length of the camera strap, a wrist version will also be available. Stroppa Flat Wrist is an ideal solution for those, who take pictures with small and compact cameras. The 35cm handmade strap, secured with hardened split ring, allows you to carry the camera freely on your wrist. This ensures that your camera is always at hand and ready to shoot.
Our straps are pure symbiosis of two simple materials: rope and leather. Depending on the clients choice, we use high quality climbing or sailing ropes. Each of them gives our products specific characteristics and purposes. As they`are made for the harshest of environments they`re unmatched in strength, abrasion resistance and longevity.
The leather that we use to manufacture our products by hand comes from the Tuscan tannery and is a high quality, natural, vegetable tanned, bovine leather. This tanning method has been passed on for hundreds of years by generations. It takes place in full respect of nature as well as tradition and is performed only by top-class artisans. The leather obtained this way can serve life long – it is known worldwide for its longevity and durability. Vegetable-tanned leather, like wine, gains style and character with age.
All our products are handmade using saddle stitch. It is the most durable and simplest technique of stitching which is known to men. It requires a lot of hard work of a skilled artisan but rewards you with the strong and secure bond meant only for the highest quality of leather products.
Do you like to wander around the city labyrinth? Do you travel often and do not enjoy how something restricts your movements? Or maybe you like to use several cameras at once?
Be creative! Let yourself be carried away by your imagination with the ever expanding selection of Stroppa straps you can customise to your needs.